Trip to Medina and Mecca
Author: Islam G., 2019-01-05
In the name of Allah, Most Merciful Most Gracious,
This year, in December, the new Muslims around the world had the opportunity to take umrah to sacred Muslim places. The event was organised by the sponsor Al Muhaidib group. I knew about importance of umrah since a day I embraced Islam, so I was very keen to respond to the proposal and schedule my time so that I could go. After completing a questionnaire, I made my international vaccine passport and ordered an umrah visa through an agency specialised in these types of visas. Meanwhile I was preparing. The administration of the Kaunas city Muslim Religious Community gave me lots of information about this pilgrimage. That gave me more confidence and increase my desire even more.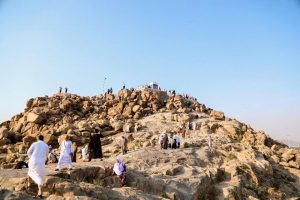 In spite of various difficulties, two Lithuanians were ready for a long trip from Vilnius to Medina on December 19th. Our flight was challenging with lots of stops between on the route Vilnius-Warsaw-Frankfurt-Munich-Amman-Medina. The journey was a long but exciting and enjoy to visit the holy land stayed with us the entire time of the stay.
When we arrived to Medina, the city where the Prophet Muhammad SAW died and buried, we were accommodated in a hotel near the Prophet's SAW Mosque (Masadid-Nabawi). So in the morning, after ghusl, we prayed in the second most important mosque in Islam. I knew that this mosque was great, that many people were visiting it, but in reality it was breath taking experience: when azan was called, the piligrims from all around the world gathered to the mosque of Masadid an-Nabawi. People from different countries and even continents, different races came together as one unified ummah (community) united by believe in one and only God – Allah. It is impossible to describe the beauty of the mosque in words – it must be seen.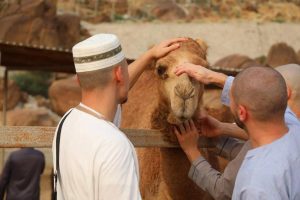 A large amount of holy zam-zam water was delivered daily from Mecca. After each prayer we had an opportunity to enjoy the glass of this miraculous water. In this mosque there is a tomb of the Paradise Garden (Arab al Raudah), next to which is the Prophet, peace and blessings up on him. All believers try to pray in that particular place, because the prayer there is equal to prayer on Paradise. And prayer made in this mosque is equivalent to a thousand prayers made elsewhere, except for Mecca. The prayer done there is equal to one hundred thousand prayers made anywhere else.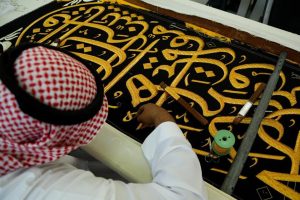 We took bus to Mecca dressed in white, we immersed in a special state – ihram – and made an intention to make an ummrah. Once arrived we were accommodated to a hotel. After we settled, we rushed to Kaaba to join other pilgrims. We walked around it 7 times counter-clockwise (at-tauaf), performed other important umrah rites and prayed a lot. I planned my time around, so I could perform my daily prayer in this mosque. It is a special feeling, a special reward for a prayer performed in Mecca.
We visited many more important places with our faith brothers from all over Europe. In total, there were 200 pilgrims from Europe and not only from the program. I also met my brothers in faith from neighbouring countries. It is amazing feeling to meet everyone together and make an umrah together.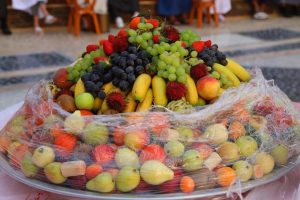 The organizers also took us to the city of Jeddah, where we met the sponsors of this trip. At the entrance roses petals were sprinkled on us, they gifted us pocket Quran with a basket of other condiments – an electronic reader-translator. We had a delicious meal and watched the footage of our trip. The organizers told us about the challenges encountered in implementing this project – World Umrah 2018 for new Muslims. The supporters were delighted to give us the opportunity to visit Islamic places, and we felt infinite gratitude to these caring people and our brothers in faith.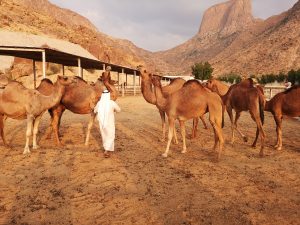 The days past buy fast, so we had to leave from Jeddah airport to Frankfurt on 30th of December, and then to Warsaw, and 31st of December 1:00 am we landed at Vilnius air port. We flew from a place where were 40 degrees of heat, and landed in a thick fog, and winter cold… Parents eagerly awaited at the airport with homemade beliash and hot thyme tea. We were at home in 4 hours. We haven't got a chance to sleep in the morning, as we wanted to share our experience with our beloved ones. It's a great pleasure to have brothers in faith and loving parents.
Sincere thanks to everyone who contributed to this wonderful journey. May Allah bless you all. Ameen.
January 05, 2019
by islamasvisiem